Latest on the hull
by Dermot Tynan in Microtransat
---
Posted on Monday, October 28, 2013 at 08:00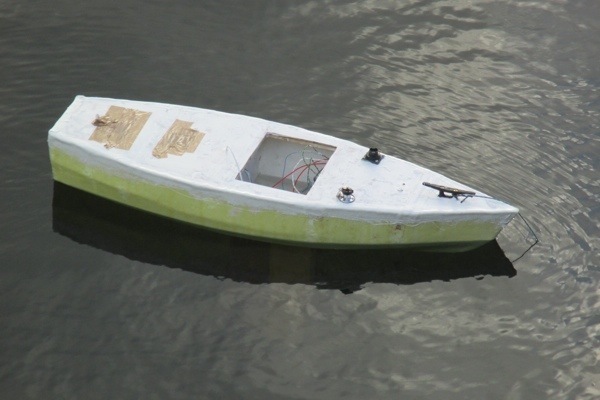 Hull #1 afloat
---
Here's a quick sneak picture of the hull with the wiring harness complete and the decks sealed in place.
The keel is still only temporarily installed so the main compartment is again flooding with sea water. The bow is still slightly down in comparison to the stern, but this is mostly due to the flooded compartment. Also, the keel still hasn't been moved back, yet. That will happen this week.
The solar power connector and the masthead connector are visible just in front of the main compartment. The ugly brown tape is to seal up the deck fittings for the rudder and sail servo motors. The deck plates are taped to the hull using polyester resin and fibreglass tape. They need to be sanded smooth, ready for another final coat of epoxy and then a generous layer of antifoul. The antifoul coating will be one of the very last steps prior to the Microtransat. If you look at the previous blog posting on the SGS, the alu plate which supports the electronics will be mounted over the main compartment and secured in place.
---