Where in the world?
by Dermot Tynan in Microtransat
---
Posted on Wednesday, February 20, 2013 at 08:00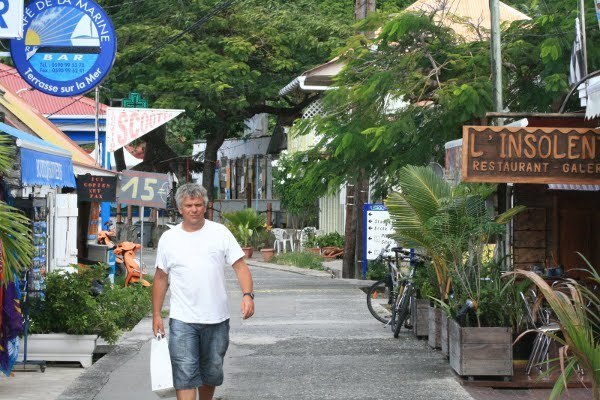 Dermot Tynan in Guadeloupe (2009).
---
So, the truth is, Iles des Saintes, just south of Guadeloupe, is one of my favourite places in the world. It was definitely a case of "love at first sight." If the Microtransat is an excuse for me to travel back there, and spend a little more time in Guadeloupe, then it wouldn't be the worst thing in the world.
The islands, like Guadeloupe, are a "French protectorate." While many of the islands in the Caribbean are associated with one or other European country, the French islands are different. You can think of them as extensions to the mainland. The language is French (of course), the currency is the Euro, and the local flag is the Tricolore. If you're a European citizen, you can live and work here. That's way too tempting...
In 2009 we arrived here en route to the British Virgin Islands. We spent a relaxing day or two, swimming in the turquoise waters, wandering through the idyllic little villages, and using the Internet for the first time in many weeks.
While we were there, the ATM broke down, and every credit card machine on the island stopped working. We went to the local supermarket to buy provisions for the boat, and ended up having to put most of them back, because we had no cash with us! We did bring the essentials, like bread. And wine...!
Later, as we were departing, a "boat boy" came alongside, and asked if we wanted bread and croissants in the morning. We explained that it was an early departure. No problem! At around 6AM, a gentle tap-tap-tapping on the hull told us that breakfast had arrived.
We were treated to freshly-baked croissants and rolls, before we weighed anchor, and headed on to Antigua. Unfortunately, we had to bypass Montserrat. Another time, perhaps...
---