The Reboot
by Dermot Tynan in Microtransat
---
Posted on Sunday, August 28, 2016 at 10:45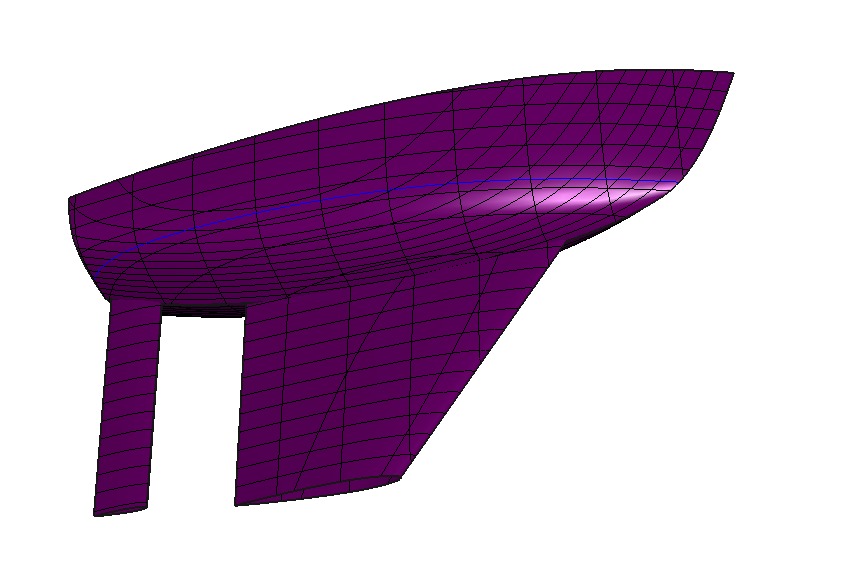 MegaMOOP Perspective View
---
According to the calendar, it is now 963 days since my last blog posting on here. A lot has happened in that thirty month period, but not a lot in terms of the robotic boat.
I've worked on a variety of designs of winged sail and I think I have a design which will work really well. More about that, anon.
You may also notice I redesigned the blog, and switched from Wordpress to Jekyll. I had originally planned to code a Ruby on Rails site, and this is mostly why there haven't been any blog updates for the last couple of years. I wanted to incorporate automatic blog updates from the boat when she's at sea, but trying to decide on a layout for the new blog was like trying to choose the paint colour for the bike shed. Eventually I just went with Jekyll as it allows me to have boat updates, and doesn't involve spending months tweaking HTML and CSS.
The big news though is a decision I made last year, to switch away from my own hull design, which you can find here: [[56]. Chatting with Professor Paul Miller of the US Naval Academy, I came to the conclusion that the design he and his students had perfected, which they call the MaxiMOOP.
I spent a long time, initially, thinking about whether to choose a 1.2m or a 2.4m hull. There are advantages and disadvantages to both, and I've covered some of those in earlier postings (The hull starts to take shape. and Hull 001 is almost ready for fibreglass).
I went with a 1.2m LOA for hull #001, but the new hull will be 2.4 metres LOA. As the USNA MaxiMOOP design is 1.2 metres LOA, Paul kindly modified the design and sent me the drawings for the 2.4 metre version, which he refers to as the MegaMOOP.
I think I'll just refer to it as Hull #002, for now.
Anyway, as you can probably tell, I am back working on the boat, and hope to have news of the building effort for hull #002 very shortly.
On the Microtransat front, there have been a number of recent attempts, and I will blog about those when I get a chance.
---